Alberta 
Electricity deal clinches $100M bitcoin mining operation in Medicine Hat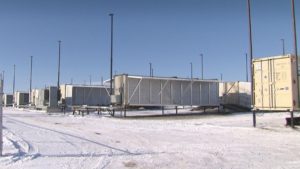 The City of Medicine Hat has agreed to supply electricity and lease land to a Toronto-based cryptocurrency mining company in a deal that will see $100 million in construction spending in the southern Alberta city. The city will provide electric energy capacity of about 42 megawatts to Hut 8 Mining Corp., which will construct bitcoin mining facilities near the city's new Unit 16 power plant. The operation is expected to be running by September and will triple the company's operating power to 60.7 megawatts. (Source: CBC News)
Electricity Prices for Alberta
The Alberta power pool price averaged 3.132 cents per kWh in February 2018. This price is 0.951 cents lower than last month's average of 4.083 cents per kWh. The pool price has averaged 2.434 cents per kWh over the last 12 months.
As of February 9, 2018, the forward market was predicting electricity prices for the calendar years of 2018, 2019, 2020, and 2021. These prices are 6.030, 5.700, 4.700, and 4.400 cents per kWh respectively.
Gas Prices for Alberta
Direct Energy's gas rate for February 2018 was $2.328 per GJ in Alberta. The March 2018 rate has been set at $1.733 per GJ. Alberta gas prices have averaged $1.902 per GJ over the last 12 months.
As of February 1, 2018, the forward market was predicting gas prices for the calendar years of 2018, 2019, 2020, 2021, and 2022. These prices are 1.44, 1.69, 1.77, 2.02, and 2.14 cents per GJ respectively.
British Columbia 
Black coffee, green waste: B.C. bill aims to make single-use coffee pods compostable
Richmond-Queensborough MLA Jas Johal introduced a private members' bill last week that would require all single-use pods sold in B.C. — like Keurig K-Cups and competitors — to be compostable. It would also force municipalities and their waste management contractors to accept those pods as green waste, which is not currently the case. Richmond's OneCoffee pods aim to be a better choice for the environment, but brand manager Shelaine Chu says waste systems are holding them back because they often don't accept compostable plastics. (Source: CBC News)
Ontario 
Gatineau approves new rules around garbage pickup, apartment composting
The City of Gatineau is going ahead with changes to waste collection this summer with the goal of keeping compost and recyclable materials out of its dump. As of July 15, each household will be able to throw out 120 litres of garbage every two weeks, with an unspecified fee possible for anything over that. Right now, there's no limit. Households will also get a new 120-litre bin by that date. The city said about half of what goes into its landfills is recyclable or compostable — and about 17,000 tonnes of compost ends up at the dump every year. The province is requiring Gatineau reduce the amount of waste that goes to its dump by 45 per cent of its 2016 volume by 2020. (Source: CBC News)
Electricity Prices for Ontario
The Hourly Ontario Energy Price (HOEP) was an average of 1.801 cents per kWh in February 2018. This price is 1.231 cents lower than last month's 3.032 cents per kWh. The twelve month moving average was 1.481 cents per kWh up to February 2018.
The Actual Rate for the Global Adjustment rate Class B for February 2018 was set at 8.167 cents per kWh. The Global Adjustment is an additional charge paid by non-regulated customers. (Source: IESO)
Saskatchewan 
1st Tesla Powerwall, which lets you store solar energy, installed in Sask. home
Generating power is not the issue when it comes to many renewable energy sources, but storing it is. That's why Taschuk recently had a Tesla Powerwall installed in his home. The Powerwall is the first of its kind to be installed in the province and essentially acts as rechargeable battery that can power a home when the electricity goes out. During a power outage, the Powerwall works instantly as a generator for the house, which means you don't have reset your digital clocks, lose unsaved work or any number of other technology related headaches.
By 2030, the SaskPower plans to have 50 per cent of all power in the province generated by renewable means. (Source: CBC News)
Manitoba 
$1400 Manitoba Hydro bill resolved with solar panel power customer
A family using solar panels to help power their home has resolved a billing dispute with Manitoba Hydro. CTV News first reported on Jarrod and Sue Chamberlin's $1,400 bill in January. The couple lives near St. Pierre-Jolys, about 45 minutes southeast of Winnipeg. The couple has 35 solar panels which produce about 50 per cent of their power. At the time, Jarrod said he believed Hydro had been incorrectly reading their bi-directional metre and was being charged incorrectly. The couple said after going back and forth with Hydro, their account was credited for $1,400. (Source: CTV News)
New Brunswick 
Smart meters already in use in New Brunswick
NB Power may be struggling to convince the Energy and Utilities Board to let it invest in smart meters but the province's municipal utilities — who don't answer to the board — have already put thousands of the devices into service without controversy. The utility began installing smart meters 12 years ago and now more than a quarter of city residents have one, particularly those living on the city's outskirts. (Source: CBC News)
 Prince Edward Island 
Solar energy saves Summerside thousands over winter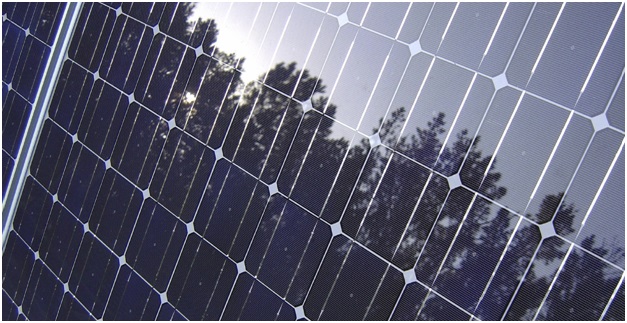 A solar energy system at Credit Union Place in Summerside, P.E.I., has been performing well since it officially came online at the beginning of November, says the city's director of community services. The system has produced 93,000 kWh of electricity and saved the city more than $16,000 in electricity costs so far. The four months the solar farm has been operating, November to February, are the worst months of the year for solar generation, so the city expects those numbers will improve. The system is forecast to pay for itself in 10 years. (Source: CBC News)
Québec 
Electricity rate increase below inflation: Commitment upheld for third consecutive year
In its decision on the 2018–2019 electricity rates, the Régie de l'énergie authorized a 0.3% increase for all residential customers and most business customers, well below the forecast inflation rate of 1.6%. The impact of the rate adjustment effective April 1, 2018, will amount to about $0.43/month for a small house and $0.90/month for a midsize house. The monthly bill of people living in apartments is expected to decrease, given that the lower-price consumption tier of the residential rate now includes 36 kWh per day instead of 33 kWh. Quebecers will continue to benefit from the lowest residential rates in North America. (Source: Hydro Quebec Press Release)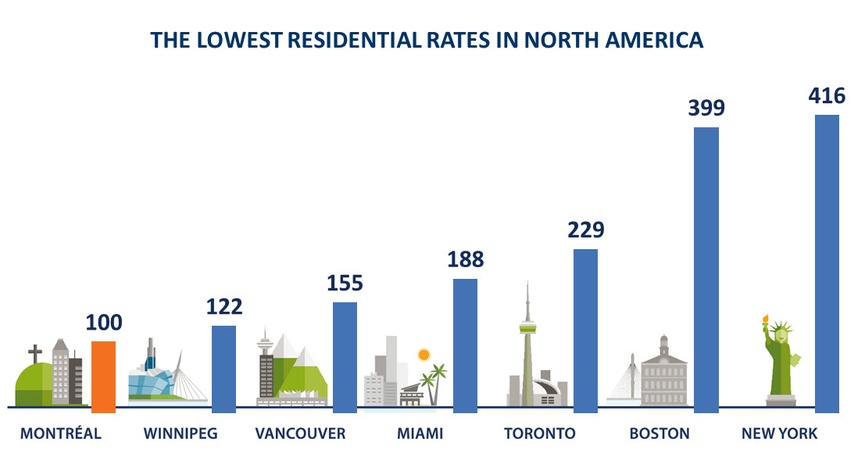 Newfoundland and Labrador 
N.S. sells power to N.L. for first time through new Maritime Link
Nova Scotia is now exporting power to Newfoundland. Electricity is being carried via the new Maritime Link, two 170-kilometre subsea cables laid across the Cabot Strait last year. The link will eventually send power to Nova Scotia from the Muskrat Fall hydro project in Labrador. But with Muskrat Falls delayed, Newfoundland and Labrador Hydro, a subsidiary of Nalcor Energy, is importing power. Nalcor says the imports will save up to $50,000 a day at peak demand times in the colder months, offsetting more expensive fuel burned at its Holyrood generating station. Another power line, the Labrador-Island Transmission link, is expected to come online in June or July, offering other options for cheaper power. (Source: CTV News)
Nova Scotia 
Nova Scotia and New Brunswick face end of domestic supply of natural gas
Homes and businesses that use natural gas in Nova Scotia can expect price hikes when the province's offshore supply dries up in the next two years, according to the region's pipeline company. Mike Whalen of Maritimes and Northeast Pipeline says there is plenty of cheap natural gas in Western Canada and the United States, as well as pipelines to get it here. But that cheaper gas will not offset the increased pipeline charges to move it into the region. That was the issue before an expert panel convened Wednesday by the Maritimes Energy Association in Halifax. The industry is grappling with what happens after the ExxonMobil-led Sable Project winds down by 2020. (Source: CBC News)
Nunavut 
Nunavut not prepared for climate change impacts, auditor general says
Report cites rising temperatures, thawing permafrost among negative impacts of climate change.
The report also says the territory has twice come up with climate change mitigation strategies, but never followed through on finalizing action plans to implement them. Nunavut isn't alone. The findings echo the auditor general's reports on the same topic out of the Northwest Territories in October and Yukon in January. (Source: CBC News)
Northwest Territories
N.W.T. Power Corp. cancels contract for missing power generators
The Northwest Territories Power Corporation (NTPC) has cancelled the remainder of a multimillion dollar contract with a U.S. company after two of the five power generators it promised to deliver failed to materialize last year. Virdi Power Inc., located in Ventura, Calif., won a contract in mid-2015 to build new generators for the Jackfish Lake power plant in Yellowknife. The generators were supposed to replace aging infrastructure at the plant six months later. But after the first three units arrived in October 2017, about two years behind schedule, NTPC decided to scrap the contract and go back to the drawing board. (Source: CBC News)