Alberta 
Alberta government provides rebates of up to $3,500 for energy efficient homes
Provincial government rebates are being made available to Alberta homeowners who want to upgrade their windows, insulation and hot water heaters. The NDP government says starting April 28, rebates of up to $3,500 will be available for eligible products. The program covers energy efficient triple-glaze windows and tankless hot-water heaters, along with insulation for attics, basements and above-grade walls. To qualify, homeowners must select from a list of Alberta-based registered contractors on efficiencyalberta.ca to install eligible products. Contractors will guide homeowners through the application. Rebates will go directly to the homeowner once each project is complete. (Source: Global News)
Electricity Prices for Alberta
The Alberta power pool price averaged 1.910 cents per kWh in April 2017. This price is 0.188 cents lower than last month's average of 2.098 cents per kWh. The pool price has averaged 1.977 cents per kWh over the last 12 months.
As of April 4, 2017, the forward market was predicting electricity prices for the calendar years of 2017, 2018, 2019 and 2020. These prices are 2.625, 3.950, 3.975, and 4 cents per kWh respectively.
Gas Prices for Alberta
Direct Energy's gas rate for April 2017 was $2.267 per GJ in Alberta. The May 2017 rate has been set at $1.952 per GJ. Alberta gas prices have averaged $2.300 per GJ over the last 12 months.
As of April 3, 2017, the forward market was predicting gas prices for the calendar years of 2017, 2018, 2019, 2020, 2021, and 2022. These prices are 2.87, 2.63, 2.44, 2.47, 2.55, and 2.57 cents per GJ respectively.
British Columbia 
Opinion: Site C debate hints at Vancouver's path to green energy future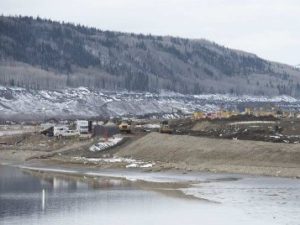 A new report out from UBC last week estimates that the City of Vancouver will consume up to 90 per cent more electricity under its plan to transition to 100-per-cent renewable energy by 2050. There are many skeptical voices on whether such a dramatic transition is viable, or even desirable. Many question the city's rose-tinted vision for expanded availability of renewable natural gas, a product in short supply today with not a lot of room for growth. Despite this, it is clear that Vancouver is determined to move firmly in the renewable direction. City Hall has been putting policies in place to move toward the 100 per cent target as aggressively as it can.
Meantime, the giant Site C hydroelectric dam is nearly a quarter complete. By 2024, Site C is slated to provide a big chunk of additional clean energy, exactly the type of energy that is required for the City of Vancouver's green transition plan. (Source: Vancouver Sun)
Ontario 
Wind energy and Ontario's electricity prices – let's destroy the myth
Various pundits assert that the major reason for higher electricity bills in Ontario is the addition of renewable energy to the province's electricity mix. This is a myth. According to a January 2017 study by Environmental Defence, the average Ontario household pays about $11 per month for wind power – about six per cent of their electricity bill. The biggest components of the bill are delivery (31 per cent), nuclear-generated electricity (24 per cent), HST (12 per cent), natural gas generation (8 per cent), and hydro-electric power (7 per cent). It's true that Ontario's wind energy industry was initially developed with contracts paying above average generation costs. It's equally true, however, that wind energy costs have declined to the point where new wind energy is one of the most economical forms of energy available to Ontario today. Recently, Ontario announced a plan to lower electricity bills. Wind energy is a relatively small contributor to current bills. More importantly, as wind energy costs continue to fall, non-emitting wind power will be the best option going forward to keeping electricity affordable in Ontario. (Source: CanWEA)
Electricity Prices for Ontario
The Hourly Ontario Energy Price (HOEP) was an average of 0.966 cents per kWh in April 2017. This price is 1.485 cents lower than last month's 2.451 cents per kWh. The weighted-average price was 1.114 cents per kWh during April 2017. The twelve month moving average was 1.954 cents per kWh up to April 2017.
The Actual Rate for the Global Adjustment rate Class B for April 2017 was set at 10.778 cents per kWh. The Global Adjustment is an additional charge paid by non-regulated customers. (Source: IESO)
Saskatchewan 
Major Increase in 2017 Oil Drilling Forecast
In a revision to expected drilling totals for 2017, the Petroleum Services Association of Canada (PSAC) is forecasting a major increase in oil and gas activity in Saskatchewan.
The updated PSAC drilling activity forecast includes a significant increase in the estimated number of wells drilled in the province to a new total of 2,670 wells, up from 1,940 wells in the original forecast. The number of wells already drilled in Saskatchewan for the first three months of the 2017 calendar year is 856, compared to 399 wells drilled during the same period in 2016. (Source: Government of Saskatchewan)
Manitoba 
Manitoban shines light on solar energy with $1.83 hydro bill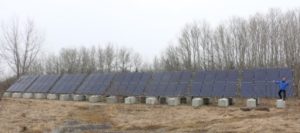 Heather Bishop installed 64 solar panels to get electricity for her rural southern Manitoba home. The solar panels were ready to go in January and, even though it was winter, she produced more electricity than she needed. "So, I actually sent them more power than I used, but I got dinged for taxes, so I owed them $1.83 and I can live with that." The whole setup will be paid back in 20 years.
Last April, Manitoba Hydro launched the Power Smart Solar Energy Program to help Manitobans harness the power of the sun. Hydro spokesperson Bruce Owen confirmed 38 of 180 applications to the program have been approved so far. (Source: CBC News)
New Brunswick 
NB Power exploring potential for second hydro station at Grand Falls
NB Power has begun environmental and geotechnical studies and site testing to explore the potential for generating more clean energy with a new 100-megawatt generating station in Grand Falls beside the existing station. A second unit at Grand Falls has the potential to help NB Power meet its long-term clean energy requirements. Forty per cent of the utility's in-province electricity sales must come from renewable sources by 2020. The combined renewable generation capacity of the proposed and existing stations would be 166 megawatts. The project would require construction of various new structures, including a second tunnel. (Source: New Brunswick Government)
Prince Edward Island 
P.E.I. man wants to know why he pays HST on electricity he generates himself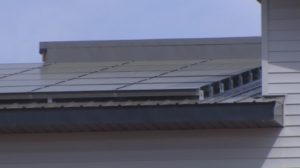 Kris Currie's (New Dominion, P.E.I.) is part of P.E.I.'s net metering program, which allows individual homeowners to generate their own electricity, sending any excess into the grid in exchange for credits so they don't have to pay when they draw electricity back out of the grid — for example, at night when solar power can't be generated. Currie's home is generating more electricity than it uses, feeding the excess into P.E.I.'s electricity grid. Currie pays nothing to Maritime Electric for his electricity, but is still billed for the HST on every kilowatt hour used, just like any other customer. But the added tax means it will take longer for that investment to pay off, and he said that will discourage other homeowners from doing the same thing. The provincial government did say it has commissioned a review of the electrical grid, which could lead to changes to the net-metering program. (Source: CBC News)
Quebec 
Hydro-Québec to evaluate possibilities for delivering more electricity into Northeast US markets
HQ will submitted requests for the study of additional transmission interconnections with Maine and Vermont. Increasing exports to New England is mutually beneficial. It is a significant source of revenue for Hydro Quebec that can contribute to its commitment to double its revenue for the benefit of all Quebecers. For New England, Hydro Quebec supply offers all of the attributes needed by the New England system in a single resource: a low-carbon, reliable energy source, stably priced over the long term and able to complement intermittent sources of electricity. In a nutshell, an excellent energy source for New England customers. (Source: Hydro Quebec)
 Newfoundland and Labrador 
Provincial Government Announces New Home Energy Savings Programs
As part of Budget 2017, the Provincial Government announced $9 million in funding over three years for two new home-energy-efficiency programs. Government will provide financial assistance to homeowners looking to reduce their energy costs by improving the energy efficiency of their homes.
The Home Energy Savings Program (HESP) will provide low-income households with grants of up to $5,000 for cost-effective upgrades in existing homes with electric heat, focusing on insulation and air sealing. The HESP will be delivered over three years by the Newfoundland and Labrador Housing Corporation. (Source: Newfoundland Labrador Government News Releases)
Nova Scotia 
Former NS Power customers may apply for fuel refund
Last year, Nova Scotia Power saved $36 million in fuel costs. When the actual cost of fuel used to generate electricity comes in below estimates, those savings go back to customers. The fuel refund applies to residential, commercial and streetlight accounts that were active in 2016. The amount of the refund is based on your 2016 electricity usage. An average residential customer could receive between $20 and $50. Current customers of Nova Scotia Power who qualify for the refund will automatically receive a fuel credit on their bill by April 30th. There is no need for current customers to apply. (Source: Nova Scotia Power)
Nunavut 
Iqaluit mayor: Nunavut capital needs "transformational investment"
Huge changes and opportunities for business lie ahead for Iqaluit, but the city could use more support from government to help build and maintain its infrastructure. That was main message from Iqaluit Mayor Madeleine Redfern during an April 26 breakfast talk hosted by the Iqaluit Chamber of Commerce. Among Iqaluit's pressing needs: a "big energy fix," Redfern said. The city pays $1 million for its diesel-furnished electricity, which likely won't be impacted significantly by alternative energy projects any time soon, she said. The carbon tax, which obligates provinces and territories to place a surcharge or levy on carbon-based fuel starting in 2018, could be directed to help build, for example, the hydroelectric project Iqaluit has lobbied for and which has been on hold since 2015. (Source: Nunatsiaq Online)
Northwest Territories
Inuvik to Tuktoyaktuk Highway Provides New Research Frontiers in Geoscience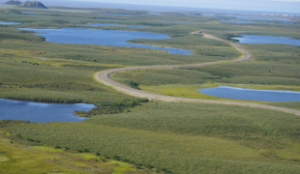 The Inuvik to Tuktoyaktuk Highway (ITH), a 140km-long road that reaches to Canada's arctic coast, is scheduled to open on November 15, 2017. The ITH crosses over permafrost terrain and this new research and monitoring can inform maintenance, regulation and climate change adaptation strategies related to this project. During the 21-day field program in February and March 2017, a team of contractors and researchers collected more than 190 m of permafrost core and installed ground temperature monitoring cables in 16 boreholes along the ITH. As permafrost thaw can damage roads and buildings, the research is a significant part of infrastructure planning in the Northwest Territories (NWT) and throughout the circumpolar region. (Source: Government of Northwest Territories, Industry, Tourism and Investment)
Yukon
Gas tax cash funds wastewater projects, transit building
Yukon MP Larry Bagnell and Whitehorse Mayor Dan Curtis announced $2.8 million from the federal gas tax fund to pay for three wastewater projects in Whitehorse April 26.
Of the money allotted, $2.4 million will go to upgrades to the 40-year-old Marwell lift station, which deals with the city's wastewater. Curtis said the upgrades to the station are necessary.
Another $330,000 will cover work on the Hidden Valley storm pond that will provide a new outfall pipe and trench so that water will stop overflowing onto neighboring properties. The remaining $100,000 went to upgrades to the storm sewers on Burns Road. (Source: Yukon News)